collegiate showcase | Monday, Feb. 15, 2021
The Genesis Invitational Collegiate Showcase is an opportunity for a collegiate golfer to play their way into The Genesis Invitational field while also allowing universities to compete for a $50,000 donation to support their golf program. First held in 2015, the Collegiate Showcase will be contested for a seventh time in 2021.
What is the Collegiate Showcase?
Who: the Collegiate Showcase features a top PGA TOUR professional and a standout collegiate golfer paired with two amateurs competing in both a team and individual competition.
What: a pro-am style event featuring golfers, alumni/donors, and PGA TOUR pros representing a university.
When & where: Monday, February 15, 2021 at The Riviera Country Club
Why: the teams professional and amateurs play a best-ball round with the top three-person team winning a $50,000 donation to the school's golf program. The low collegiate golfer will earn an exemption into the 2021 Genesis Invitational and will round out the field of 120 players.
How: Collegiate Showcase registration fee $25,000 per team. Can be paid by alumni/donors, or university
2021: for the health and safety of all participants, the Collegiate Showcase will follow all local and state guidelines for COVID-19.
Past Participants Include:
Golf programs from:

 

Arizona, Arizona State, Baylor, Colorado, Georgia, Illinois, Indiana, Kentucky, Northwestern, Oklahoma State, Oregon, Pepperdine, San Jose State, Texas, Texas A&M, Texas Tech, UCLA, UNLV, USC, Wake Forest, Washington and Wyoming.
PGA TOUR pros: Abraham Ancer, Paul Casey, Luke Donald, Jim Furyk, Bill Haas, Charley Hoffman, J.B. Holmes, Beau Hossler, C.T. Pan, Jordan Spieth, Harold Varner III, Jhonattan Vegas, Jimmy Walker and more.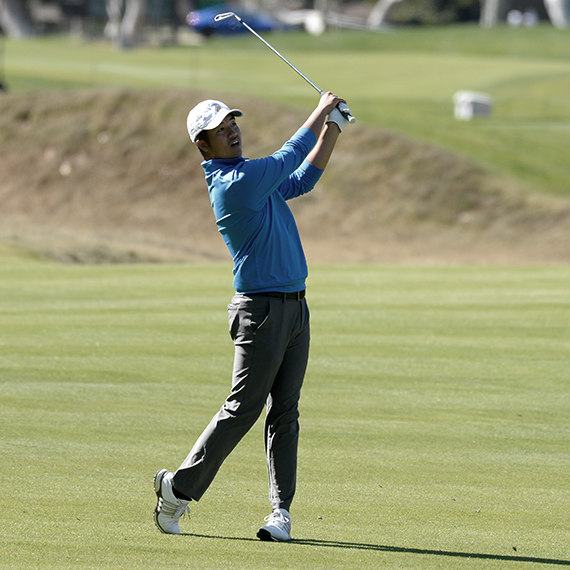 2020
Sean Yu
On a picturesque day at The Riviera Country Club, 13 collegiate golfers were tested not only by the difficulty of the course but by the wind. San Jose State University's Sean Yu posted the low score of 1-under-par 70, to earn an exemption into The Genesis Invitational. Yu earned a two-shot victory over second-place finishers Allen Hamilton (University of Kentucky) and Spencer Soosman (University of Texas). Competing with Charlie Sifford Memorial Exemption recipient Joseph Bramlett on Monday, Yu would go on to play the first two rounds of the tournament with Bramlett later in the week.
Team Champions
University of Southern California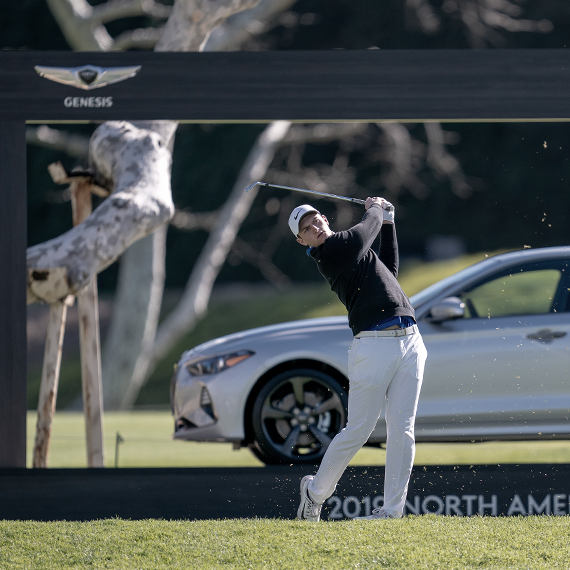 2019
Lukas Euler
If at first you don't succeed, try again. That method worked for Kentucky's Lukas Euler who after finishing T2 in the 2018 Collegiate Showcase, earned a three-stroke victory in the 2019 competition. Euler, a junior at the University of Kentucky, posted a four-under-par 67 and was one of only two players to break par; Oklahoma State's Hayden Wood was the other. The victory for Euler on Monday at Riviera would be a sign of things to come that week. Kentucky alumni and Euler's Monday playing partner J.B. Holmes would emerge victorious on Sunday in the Genesis Open.
Team Champions
San Jose State University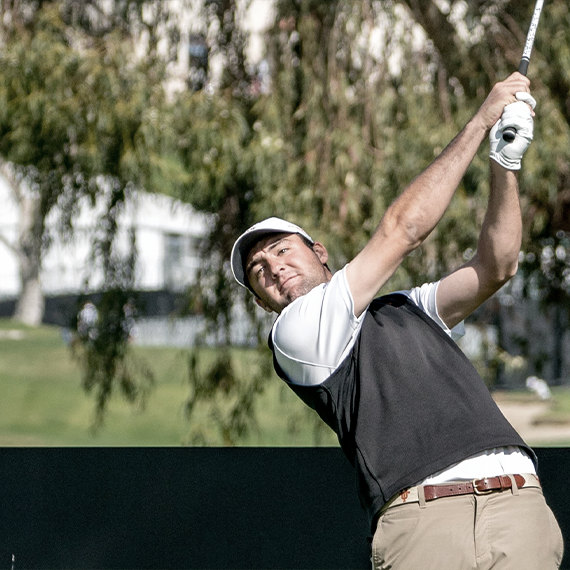 2018
Scottie Scheffler
University of Texas senior Scottie Scheffler shot a 3-under-par 68 at The Riviera Country Club on Monday to win the 2018 Collegiate Showcase and earn an exemption into the 144-player field at Riviera. The start in the Genesis Open marked Scheffler's fifth PGA TOUR start and first since he finished as the top amateur in the 2017 U.S. Open at Erin Hills, tying for 27th (1-under-par 287). Scheffler posted a six-shot victory over a trio tied in second place that included Texas teammates Doug Ghim and Spencer Soosman along with Kentucky's Lukas Euler.
Team Champions
University of Texas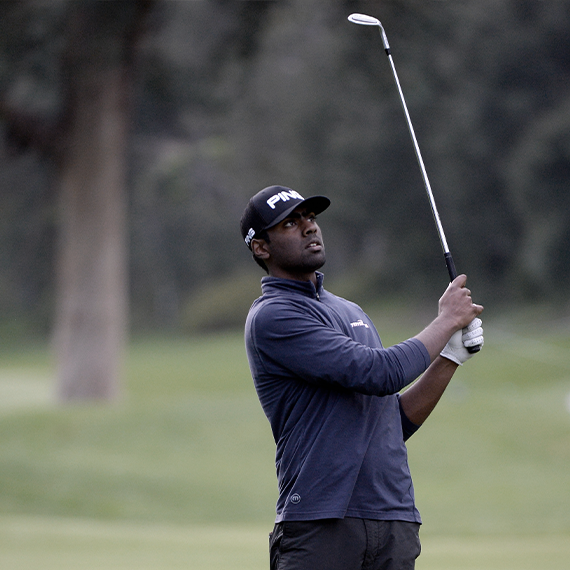 2017
Sahith Theegala
Less than 15 miles from the campus of Pepperdine University is The Riviera Country Club. getting from one to the other is so easy, there are only two turns. That ease would be shared by Pepperdine sophomore Sahith Theegala as he earned an exemption into the Genesis Open by virtue of his one-shot victory in the Collegiate Showcase. Theegala would get a preview of Riviera during the week as he went on to compete in the 2017 US Amateur Championship, also held at Riviera. Theegala made it to the round of 32 later that summer, eventually falling to Doug Ghim, the tournament's runner up. After making the cut, Theegala finished T49.
Team Champions
Pepperdine University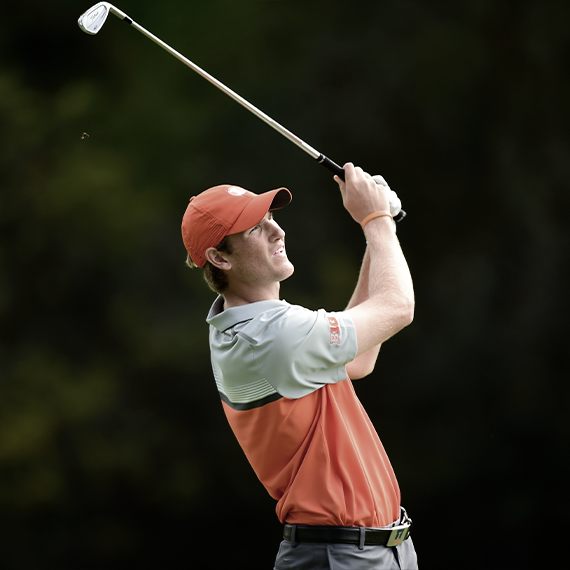 2016
Charlie Danielson
With a bogey-free score of 68, the University of Illinois senior Charlie Danielson bested 13 other collegiate golfers to earn a start at Riviera in 2016. The three-under-par score vaulted Danielson to a three-shot victory over the defending champion Will Zalatoris (Wake Forest University) and Johnathan Garrick (UCLA). Danielson wasn't done making highlights at Riviera as he followed up his bogey-free 68 in the Collegiate Showcase with a four-under-par 67 in the first round of competition on Thursday. After making the cut, Danielson finished T72.
Team Champions
University of Texas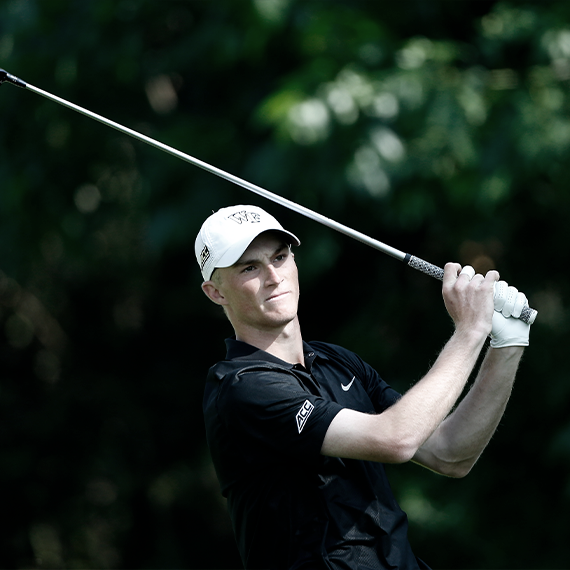 2015
Will Zalatoris
Freshmen don't lack experience. That's what Will Zalatoris showed in the inaugural Collegiate Showcase as he carded a four-under-par 67 to earn the exemption into the 144-player field later in the week. Zalatoris was the only player to break par and finished five-strokes ahead of Arizona's George Cunningham who finished in second place.
Team Champions
University of Oregon
San Jose State's Sean Yu earns PGA Tour start at Genesis Collegiate Showcase
PGA Tour starts are a coveted commodity for college players. San Jose State senior Sean Yu will take advantage of one at this week's Genesis Invitational. Yu becomes the latest player to advance through the annual Collegiate Showcase and earn a spot in the tournament.
Kentucky's Lukas Euler earns spot in Genesis Open field via Collegiate Showcase
To say Lukas Euler's golf career is trending in the right direction might be an understatement. In his second try at the Genesis Open's Collegiate Showcase's exemption, the Kentucky junior posted a 67 at Riviera Country Club to earn his first PGA Tour start.
Collegiate Showcase | two contests
During The Genesis Invitational Collegiate Showcase there are two different competitions taking place. First, a college golfer is competing to earn an exemption into the 120-player field. The second contest features a pro-am style event with teams comprised of a PGA TOUR pro and two amateurs representing their alma mater. The team best ball contest awards a $50,000 donation to the winning golf program.
For more information on the Collegiate Showcase or to register your team, please contact Anthony LaFica by email or by calling 310-573-5810
Each Showcase contestant receives:
Premium gifting suite experience
Invitation to a Collegiate Showcase kickoff dinner on Sunday, February 14
Invitation to play a round of golf at a local country club with your team
Breakfast, lunch and awards reception
One (1) Monday-only valet parking pass
Monday-only guest badge allowing access to pro-am dining
Private locker room access
Two (2) clubhouse tickets valid Thursday-Sunday
Note: gifting for collegiate athlete participants follow NCAA compliance guidelines